1
« on: Today at 12:10:22 AM »
Turnbull visits Camp Aguinaldo, witnesses PH-Australia war game
|
Rappler
- November 19, 2017
Manila, Philippines – Australian Prime Minister Malcom visited the Philippine military headquarters, Camp Aguinaldo, on Monday, November 13, to witness a war game between troops of the Australian Defense Force (ADF) and their counterparts in the Armed Forces of the Philippines (AFP).
About 20 Filipino and Australian troops performed a training demonstration of enhanced counter-terrorism cooperation, simulating urban operations with counter improvised explosive devise (counter-IED) scenario.

Turnbull watched the simulation with AFP chief of staff General Rey Guerrero and Philippine Army chief Lietuenant General Rolando Bautista.

Turnbull is in the Philippines for the Association of Southeast Asian Nations (ASEAN) Summit and Related Summits. The Philippines is the chair of the ASEAN this year.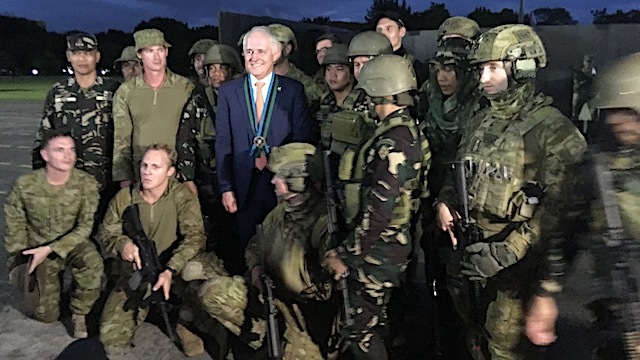 Cooperation. Australian Prime Minister Malcolm Turnbull hails the liberation of Marawi City from ISIS-linked groups
YouTube video:
https://www.youtube.com/watch?v=8DrHm63Zzlk